Lifetime Announces Stars Of Upcoming Salt-N-Pepa Biopic
While all of the group members aren't on speaking terms right now, Lifetime is getting ready to produce a Salt N Pepa biopic.
The 3-hour film is still in production but the leading cast has been announce. GG Townson, known for her roles in In the Cut, "Everybody Hates Chris" will star as Cheryl "Salt" James and Laila Odom ("The Bobby DeBarge Story" and Undercover Brother 2) will portray Sandra "Pepa" Denton. Jermel Howard will play Naughty By Nature rapper Treach and Monique Paul will star as DJ Spinderella.
Mario Van Peebles known for directing New Jack City is directing the project.
Kanye Changing His Name To 'Christian Genius Billionaire Kanye West?
He reportedly said he's considering changing his name to Christian Genius Billionaire Kanye West, claiming Forbes failed to credit him for being a billionaire after as his Yeezy shoe line is predicted to make at least $1.5 billion in sales this year.
Kanye says:
 "When I did Forbes, I showed them an $890 million receipt and they still didn't say 'billionaire.' They don't want us to know that we can buy land, they don't want us to have the 100 percent ownership I have at Yeezy. When people say it's crass to call yourself a billionaire, I say I might legally change my name to Christian Genius Billionaire Kanye West for a year until y'all understand exactly what it is. It will be on the license plate."
 "Martin Luther King didn't get killed because he had a dream — he had something else he was going to talk about. He talked about Black empowerment, economic empowerment."
He also plugged his 2024 bid for President, which he made clear isn't a joke.
"When I run for president in 2024… What y'all laughing at? We would create so many jobs! I'm not going to run, I'm going to walk. When you see headlines saying Kanye's crazy—one in three African-Americans are in jail and all the celebrities are in jail also because they can't say nothing, they got no opinion, they're so scared."
A reporter who was also present noted that West said playing with an iPhone is the same as playing with dirt.
Donald Trump In Talks To Make 'The Apprentice: White House'
President Trump is reportedly considering bringing reality television show The Apprentice to the White House.
According to the Daily Beast, three sources with knowledge of the situation told them that Apprentice creator Mark Burnett and the president have been pitching each other details on potential TV projects to be filmed after the Trump presidency.
"There have been several discussions between Burnett and Trump about The Apprentice: White House," an insider told the outlet. "It is something Burnett thinks could be a money-spinner, and Trump is very keen on doing."
Another one of the knowledgeable sources said, "They actually talked about an Apprentice: White House," but conceded that "as far as I know, the discussion did not go far."
Trump has treated his presidency much like a reality television show, so is it shocking that he's working on this new idea? Not really.
A source also weighed in on Burnett's relationship with Trump: "Mark would say, 'My relationship with the president is incredibly strong. I'm the most powerful person in Hollywood because of it. I could wipe the floor because of it.' Mark has no shame."

Chris Brown Makes $5M In A Single Day From Yard Sale!!
Chris Brown made $5 Million dollars in just one day – by selling his unwanted items at a yard sale outside his home in Los Angeles.
And according to sources, it was Chris Brown who came up with the brilliant idea of the yard sale.
He knew that a "yard sale" at his home would bring out tons of fans and spectators from all around the world. He also knew that he could sell his items easily and by hosting it at his home – he would not have to pay rent at any store.
And boy did his idea work. Thousands of people showed up, and lined up for hours, to get a chance to buy some of Chris' old luxury items.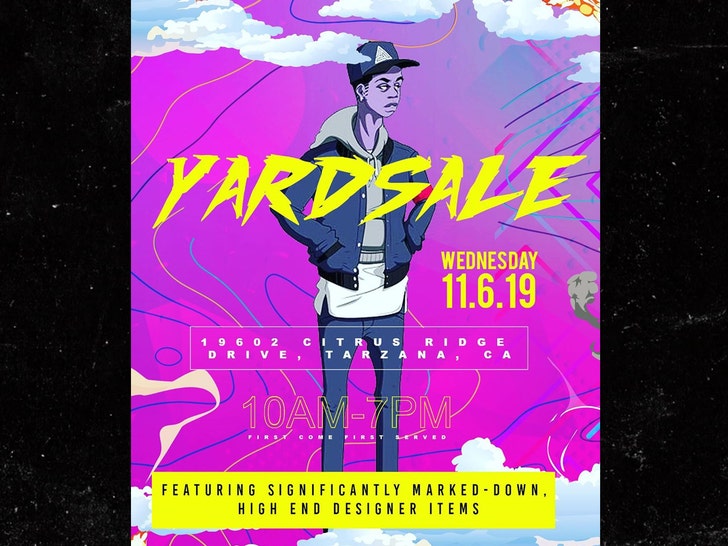 Birthdays