Kim Porter, Former Actress, Model and Mother of Diddy's Children Found Dead at 47.
She was sick with pneumonia and being treated with vitamins and saline. She called her doctor on Wednesday to say she wasn't feeling much better. Emergency dispatch was called to her home in Tuluca Lake, CA yesterday responding to someone in cardiac arrest. She was pronounced dead on the scene. She and Diddy had a super close bond and never stopped interacting since breaking up in 2007. As you can imagine Diddy is devastated but trying to be strong for the kids. Sources say Cassie has moved back in the house to support him and vows to help raise the twins. Kim leaves behind four children…Christian, 20…twin daughters Jessie James and D'Lila and 27 year old Christian whose dad is Al B Sure.
Dwyane Wade And Gabrielle Union Reveal Their Daughter's Name
To the surprise of many Dwyane Wade and Gabrielle Union welcomed a baby girl last week and still gushing over their newborn. They just revealed her name – Kaavia James Union Wade. Asked by they chose that name, Gabrielle responded, they wanted her family represented. Her Godfather's James Glass and Union and Wade are their surnames. Dwayne recently had his daughter's tattooed on his shoulder.  
Tamar Braxton Refused To Return To Stage During Play After Not Receiving Food During Intermission
Tamar showed out during a tour stop in Washington, DC on Sunday. She is currently starring in Snoop Dogg's autobiographical production of "Redemption of a Dogg". Well she refused to go back out for the second act because she didn't get to eat. A friend of Tamar's attempted to deliver food but security would not allow them backstage. They said Tamar went off!…screaming in third person "She's not here for this! You can do the show without her!" and so they did. After an hour long intermission the show went on without her using one of the dancers to play Tamar's part while American Idol finalist, Latoya London sang her songs from backstage. Neither Snoop or Tamar have publicly commented on the incident. But it looks like things maybe back to normal Tamar recently posted a message promoting their final weekend in LA.
Actress, Comedian Amy Schumer Hospitalized.
Prayers up for Amy Schumer who was admitted into the hospital suffering from Hyperemesis gravidarum, a condition when pregnant women constantly vomit to the point of dehydration and weight loss. Amy shared a photo of herself sleeping in a hospital bed and apologized to fans for cancelled shows. Saying in part "the baby's fine, but whoever said the second trimester is better is not telling the full story. Very lucky to pregnant but this is some bullsh**". Wishing she and the baby get well soon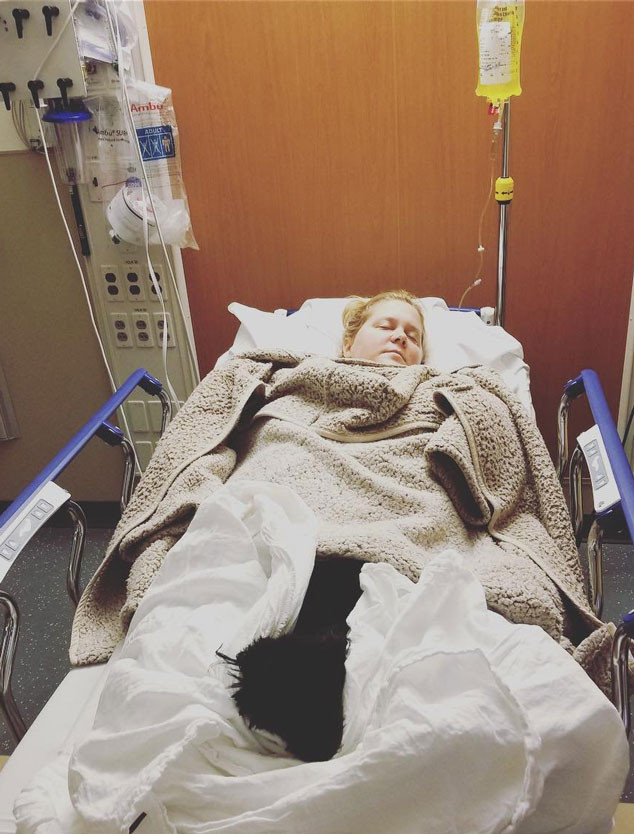 IF YOU ARE CELEBRATING A BIRTHDAY, YOU ARE IN GOOD COMPANY: 
PREFER TO LISTEN TO THE WORD?: